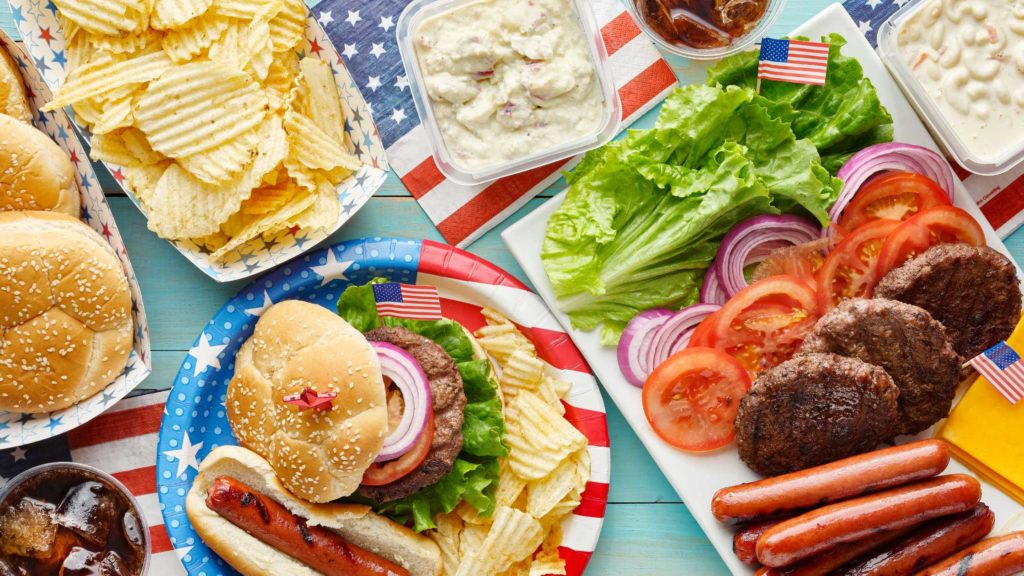 As fireworks light up the night sky and the air crackles with excitement, it's time to embark on a culinary adventure that will leave you and your guests' taste buds tingling!
The Fourth of July celebration holds a special place in the hearts of Americans. It commemorates the nation's independence and is an opportunity to gather with your loved ones. 
One essential element that can elevate this festive occasion is the food. From sizzling grills to refreshing beverages and delectable desserts, the correct items can make all the difference in creating a memorable celebration.
This article presents must-have items for the Fourth of July that will delight and satisfy you and your guests. 
Let's dive in and discover the perfect ingredients to sparkle your celebration!
As you embark on the culinary adventure of planning your Fourth of July menu, there are a few things you need to consider so you can elevate your meal planning. 
To ensure that everyone is satisfied with what's prepared, it is essential to prepare different flavors and dishes.
As much as you want to add global tastes, paying homage to the rich culinary heritage of the United States is still essential. 
We recommend that you add the traditional American dishes that symbolize the spirit of the Fourth of July. From tender barbecued ribs, classic hot dogs, and crisp, refreshing coleslaw, these beloved favorites will leave your guests wanting more.
Consider including hearty plant-based alternatives to your meat dishes. Mouthwatering veggie burgers can be the star attractions that offer a satisfying and delicious experience for all.
Before finalizing your menu, reach out to your guests in advance to gather information about what they want to eat and what you should avoid preparing. 
This will allow you to plan a menu that caters to their needs and avoids last-minute surprises.
Do you still need to decide what items you need for your menu? Helping you plan the ultimate extravaganza, we've compiled a list of must-have items for the Fourth of July.
These picked-out items will take your culinary game to the next level. From appetizers to drinks and most-awaited desserts, these essentials will ensure the best Independence Day ever!
Appetizers and snacks provide a delightful and satisfying experience to guests. These bite-sized treats will keep them entertained while waiting for the main course.
Appetizers and snacks will encourage people to mingle with each other as people gather around them. It sets the overall enjoyment for a memorable Fourth of July celebration.
Here are a few items to grab:
1. Plenty of chips and dips
From classic potato to tortilla chips, stock those up and pair them with an array of flavorful dips like creamy spinach and artichoke, zesty salsa, and tangy guacamole.
2. Cheese and charcuterie platters
This will be a delight for all cheese lovers at your table. Create a stunning display of artisan cheeses, cured meats, and an assortment of crackers or bread. Let your guests mix and match flavors and satisfy their taste buds.
3. Fresh fruit skewers
Since it's still the summer season, we suggest fruit skewers. Add juicy watermelons, sweet pineapples, and succulent berries to your food items. They add a refreshing touch and create a visually appealing treat.
4. Produce Platters
Elevate your veggie game by having an array of colorful, colorful vegetables like bell peppers, zucchini, and eggplant. If you're from Chicago, you might want to try a themed produce platter for that patronized taste. 
5. Creative Finger Foods
Put a twist on traditional appetizers with creative finger foods like mini sliders, stuffed mushrooms, or bacon-wrapped jalapeño poppers. These bite-sized delights will keep your guests coming back for more.
Grilling essentials are the epitome of every American celebration. Savoring the aroma of smoky meats, it is ideal to have this on your list, especially if your guests are into celebrating outdoors.
Another interactive experience, it's time to make grilling a cherished tradition. Below are some grilling essentials you might need:
1. Choosing the right grill.
Whether you prefer a gas grill, charcoal grill, or even a portable grill for a picnic-style celebration, ensure you have the appropriate equipment to cook up a storm.
2. Must-have meats
If you're new to buying meat, you need to take a beginner's guide on how to shop for one. Don't forget to purchase your favorite seasonings, herbs, and spices to spice up your grilling game.
3. Grilled seafood options
Add a coastal flair to your menu by including grilled seafood options like shrimp skewers, salmon fillets, or whole-grilled fish. If you're a seafood lover living in Chicago, there are a few seafood dishes you must try. 
Shopping for Fourth of July groceries is essential for a well-rounded and balanced menu.
It is vital to pick out items that complement your overall dining experience. Sides and salads satisfy your palate and your guests' nutritional needs. 
Here are some ideas you should note down.
1. Classic potato salad
Who wouldn't even love potatoes? Whip up a creamy and tangy salad with diced potatoes, hard-boiled eggs, celery, and a hint of mustard. It's a timeless side dish that pairs perfectly with the meat you buy.
2. Coleslaw and pasta salad
Another refreshing side would be coleslaw with crunchy cabbage and carrots. Dressing it in a light vinaigrette or tossing it with pasta will balance your spread. 
3. Fresh summer salads
Incorporate a variety of fresh, seasonal ingredients into vibrant summer salads. You can grab greens with ripe tomatoes and cucumbers. 
Fight the heat by considering refreshing beverages when shopping for your grocery. To keep your guests hydrated throughout your celebration, below are ways to cater to your guests' thirst.
1. Non-alcoholic options
Summer will be scorching for your little ones. It is essential to have a selection of freshly squeezed lemonades, iced tea, or fruit-infused water for a thirst-quenching celebration. 
2. Alcoholic beverages
For your guests who want to indulge in a festive drink, it's better to note having beer, wine, and spirits on your list. 
3. Fourth of July cocktails 
Get creative and design a signature cocktail for your celebration—a refreshing watermelon mojito or a patriotic red, white, and blue sangria. Create a unique drink that represents the essence of Independence Day. 
There will never be a better way to end your celebration than to add something sweet and satisfying. In contrast to your savory grilled menu, you should never forget to add dessert items to your food list.
1. Red, white, and blue-themed desserts
It will be such a fun way to emphasize the patriotic spirit with desserts that showcase the colors of the American flag. You can add red velvet cupcakes, blueberry pie, and white chocolate-dipped strawberries that fuel your bodies for a sweet and festive touch.
2. Fresh fruit and tart pies
Don't forget to add seasonal fruits aside from strawberries. You can add raspberries and peaches to create fruit tarts and pies. The combination of buttery crusts and seasonal fruits will satisfy your cravings. 
3. Ice cream sundaes and floats
If you have the budget to go the extra mile, set up an ice cream station where visitors can create sundaes and floats. Prepare toppings, syrups, and sprinkles to make it an even more delightful experience.
Essential Condiments and Toppings
By offering condiments and toppings, you can ensure that your visitors can personalize their meals according to their preferences. 
Add these to your must-have items to create a sense of satisfaction and enjoyment during this festive celebration.
1. The classic condiments: Ketchup, mustard, and mayonnaise.
2. Pickles relish and sauerkraut: Your must-have meat sides.
3. Barbecue sauce and hot sauce: To spice up your favorite appetizers.
4. Cheese slices, onions, and lettuce: Never-forget toppings.
5. Other preferred condiments: Salsa, ranch dressing, or even specialty sauces.
Now that you've got a list, it's time to buy your must-have items for the Fourth of July!
From planning a diverse menu to remembering your grilling essentials, refreshing beverages, and irresistible desserts, these must-haves contribute to an unforgettable Independence Day experience.
Remember to plan ahead, enjoy the festivities, and cherish the memories you'll make with your loved ones. 
By following this ultimate Fourth of July food guide, you will have nothing to worry about. We're sure that you will leave your guests impressed and satisfied.