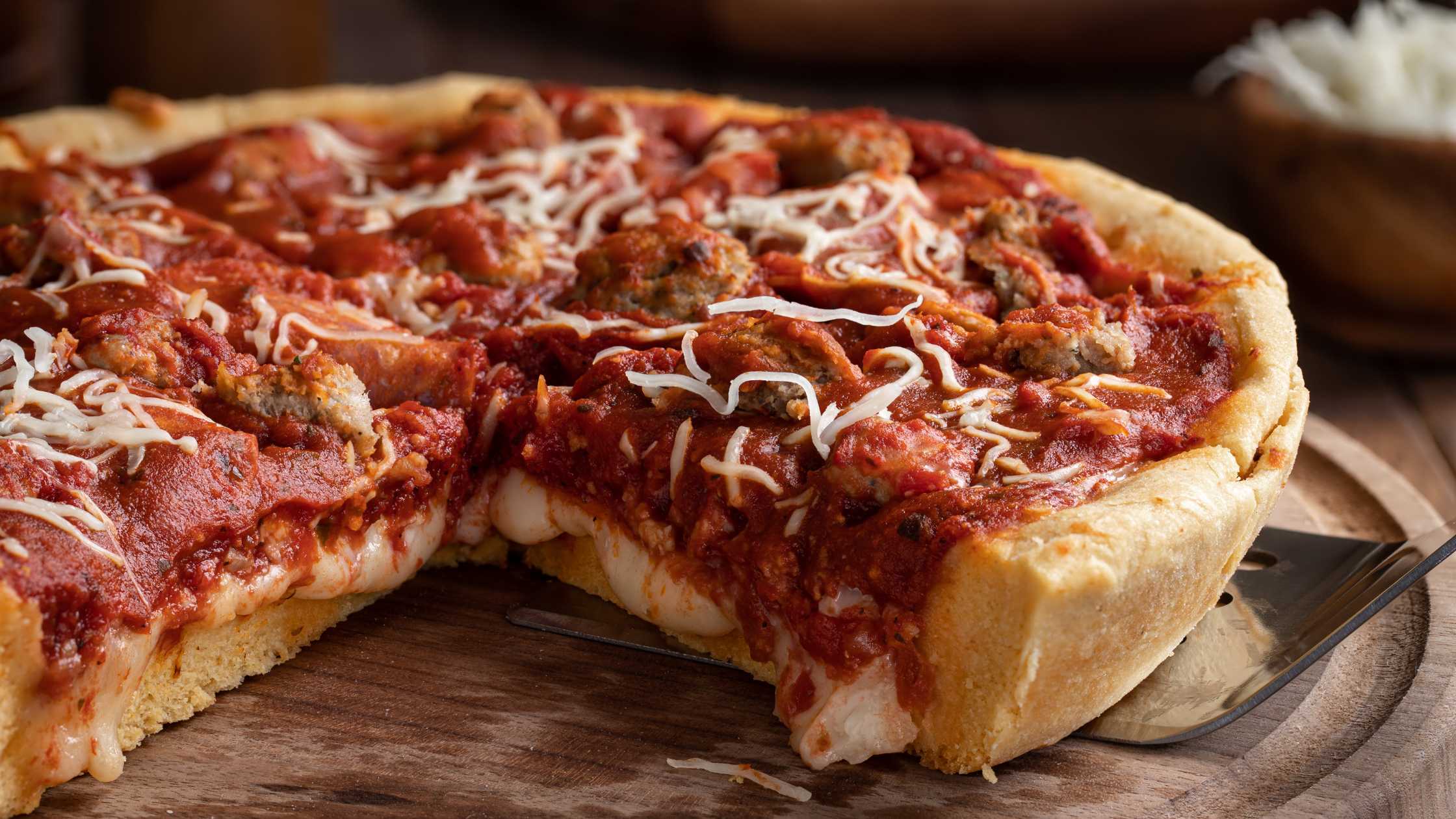 Chicago, Illinois, is famous for many things, including its breathtaking skyline, world-class museums, and lively sports culture. However, when it comes to food, Chicago is a city that has no equal. The city is renowned for its unique and diverse cuisine, reflecting the cultures and traditions of the people who call it home.
Chicago-style deep-dish pizza is the city's most beloved culinary creation. It features a thick crust that is crispy on the outside and soft on the inside, with plenty of rich tomato sauce and gooey mozzarella cheese. Toppings vary, but sausage, pepperoni, and mushrooms are popular.
2. Chicago-Style Hot Dogs
Chicago is famous for its hot dogs, and a true Chicago-style hot dog is like no other. It typically consists of an all-beef frankfurter on a steamed poppy seed bun, topped with yellow mustard, sweet pickle relish, onions, tomato wedges, pickled sport peppers, and a sprinkle of celery salt.
3. Italian Beef Sandwiches
Italian beef sandwiches are well-known and well-loved in Chicago. This sandwich features thinly sliced roast beef that has been slow-cooked in a flavorful broth, then sliced and placed on an Italian roll. The sandwich is drenched in jus, a delectable savory dipping sauce that carries explosive flavor.
When it comes to popcorn, Chicago does it better than anyone else. Chicago-style popcorn is a unique combination of savory and sweet, featuring cheddar cheese popcorn mixed with caramel popcorn. It may seem strange, but the balance of salty and sweet is a match made in heaven.
5. Maxwell Street Polish Sausage
The Maxwell Street Polish is another iconic food in Chicago. It's a grilled Polish sausage served on a bun with grilled onions and mustard. The sausage used in this dish is typically spicier than a regular hot dog, making it a bit of an adventure.
6. Italian Thin Crust Pizza
Chicago's thin-crust pizza is just as good as its deep-dish counterpart. While the crust is thin and crispy, the toppings are ample, and the sauce is tangy, making each delicious bite a moment of culinary heaven.
7. Chicago-Style BBQ Ribs
Chicago-style BBQ ribs come slathered in a tangy, sweet, and spicy sauce that is finger-lickin' delicious. The ribs are slow-cooked for hours, making them very tender and juicy.
8. Chicago-Style Cheesy Fries
Chicago's cheesy fries are the ultimate indulgence, featuring crispy fries smothered in a generous amount of cheese, bacon bits, and sour cream.
The Best Places to Eat In Chicago: Fresh Farms
Chicago is famous for its food scene, but with so many options, it can be hard to choose where to eat. That's where Fresh Farms in Chicago comes in. This grocery store is a food lover's paradise and offers a wide selection of delicious and fresh foods to suit any palate.
If you're looking for a quick and healthy lunch, Fresh Farms has an impressive Salad & Hot Bar selection. Get your hands on a fresh and nutrient-packed salad bowl, or choose from the many hot dishes available such as stir-fries, roast vegetables, and more.
Looking for a taste of the sea? Fresh Farms offers a variety of fresh sushi rolls made daily. Choose from their Hand-Made Sushi selection, or grab one of their pre-packaged sushi sets for a quick and easy snack.
In the mood for something hot and savory?

Check out the deli section

! Fresh Farms offers a range of deli meats, cheeses, and even hot meals. Try their mouth-watering chicken or beef gyros, or go for their hearty soups and stews.
If you're a fan of

poke bowls, Fresh Farms Chicago

is the place to be! Our poke bowls are made with only the freshest ingredients, and you can customize your bowl with your favorite toppings and sauces.
So next time you're in Chicago and looking for a great place to eat, make sure to stop by Fresh Farms. With a wide range of options and affordable prices, it's sure to be an experience you won't forget!
All Your Chicago Iconic Food and Ingredients in One Place
Experience the tastes of Chicago like never before with the wide selection of iconic food and ingredients available from Fresh Farms. From deep-dish pizza to authentic Italian beef, you can find all your favorite flavors in one place. With convenient locations across the city, it's easier than ever to bring home a taste of Chicago. Get your amazing foods at unbeatable prices today – shop at Fresh Farms now!
So, whether you are a foodie or just a lover of good food, Chicago is the place to be. From deep-dish pizza to Chicago-style hot dogs, Italian beef sandwiches, and Chicago-style popcorn, Chicago's food culture is unique and diverse. With all this delicious food, it's no wonder that Chicago is a city that people keep returning to.